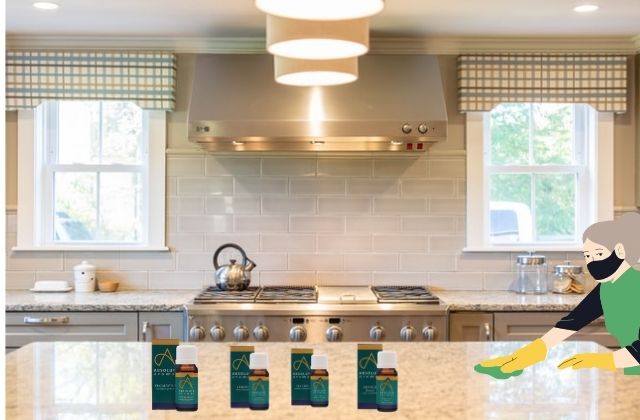 14 Jun

Kitchen Countertop Cleaning Using Essential Oils

We expect our kitchen and household cleaners to do their job of cleaning well. What we don't expect is that they will contribute to indoor pollution. Or worse, that the chemicals in them can adversely impact our health.

But sadly, that is the truth! Most conventional, chemical cleaning agents may give you squeaky clean and stain-free surfaces. But this comes at the cost of harmful chemicals coming in close contact with your skin and respiratory system. (We're not even getting into how they are also destroying the water and soil systems.)

Studies show how these toxic chemicals lead to hormone disruption and even cancer.
One of the biggest culprits here is the artificial and chemical fragrances that are used to enhance our experience of cleaning.
Fortunately, people are becoming more and more aware of the potential dangers of chemical cleaners and are turning to natural solutions for cleaning. And among the ingredients that can be used for natural cleaners, essential oils are proving to be extremely popular.
And this is for good reason. Essential oils have anti-bacterial, anti-fungal, anti-viral, and disinfecting properties that make them ideal for natural cleaners. Some even remove stains.
But the one property that they have that perhaps no other natural ingredient contains is that they smell absolutely phenomenal!
But pleasant fragrances aren't just a superficial add-on to make you feel good while you clean. The human brain actually identifies and responds to 'clean' smells. (This is why we also love the harmful fragrances present in chemical cleaners!)
In this article, we explain how you can incorporate essential oils into your kitchen cleaning routine.
Which essential oils are best suited for kitchen-top cleaning?
Given the sheer number and variety of essential oils, there are a few that are better suited to cleaning kitchen-tops than others.
Lemon, orange, grapefruit, lavender, tea tree, rosemary, eucalyptus, peppermint, and cinnamon are some popular choices. As you can see, the citrusy ones are of course part of this list, but so are ones that have a strong, clean, leafy, or woody fragrance.
But there aren't any rules for which oils you should use. You can choose what you like and even mix and match oils.
How to use essential oils to clean your kitchen countertop?
One way is to add a few drops of your chosen essential oils to a natural cleaner if it is store-bought. You can also add a few drops of oil to a bio enzyme cleaner that you have made or bought.
The other green ingredients you can use for kitchen cleaning include baking soda, white vinegar, Castille soap, natural dishwashing soap. A spray bottle will of course come in handy!
REMEMBER: These are the common ingredients to use. However, that doesn't mean you use them together. For example, white vinegar and baking soda neutralize each other. Similarly, combining Castille soap and vinegar will produce a goopy mess that you can't really use.

This is why it is important to know what you can combine with what when it comes to making natural cleaners.
Simple natural cleaner recipes
Here are a few easy-to-prepare recipes with readily available ingredients to make your own natural cleaners.
For grimy kitchen countertops
1 cup baking soda
10 drops tea tree oil
10 drops lemon oil
10 drops sweet orange oil
1/4 cup liquid Castille soap
This mixture works wonders for grease and grime on a countertop.
For all-purpose counter-top cleaning
1/3 cup baking soda
1/3 cup coconut oil
10-15 drops of essential oil of your choice
Store this mixture in a glass container and use to wipe your kitchen countertop clean and refresh it.
And of course, feel free to create your own natural cleaners via trial-and-error.