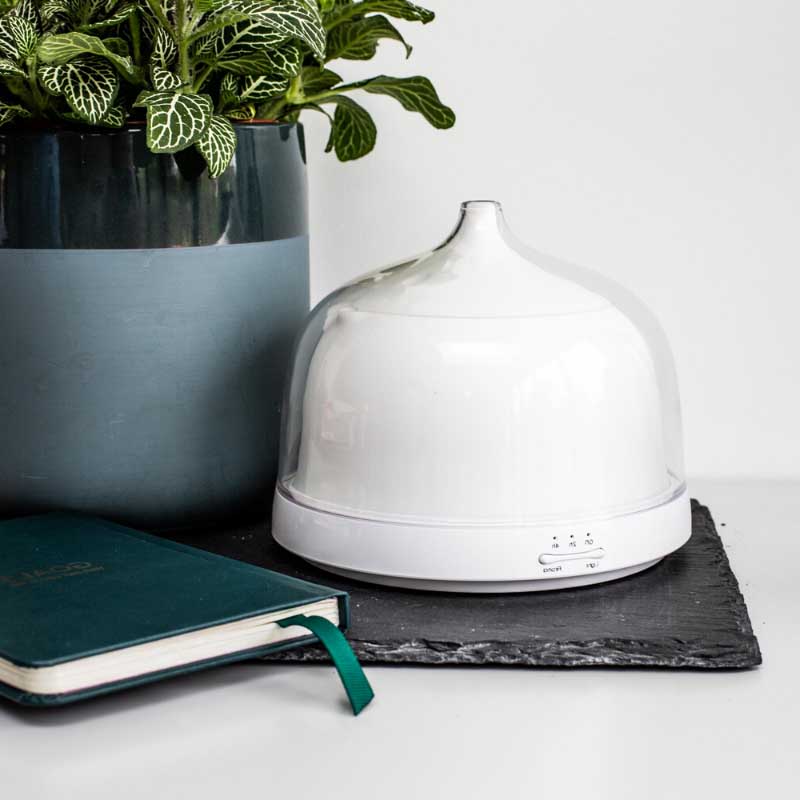 05 Jul

What are Aroma Diffusers and How to Use them?

Aroma diffusers are becoming more and more popular. And for good reason! Diffusers break down essential oils into smaller molecules and diffuse them in the air. All, so that we can sink into luxuriant, fragrant aromas and benefit from the healing properties of essential oils.

Different essential oils have different qualities. While you may want to diffuse lavender oil to induce deep and restful sleep, diffusing eucalyptus oil can be very helpful to clear congestion in the sinuses. Basil oil can help you feel calm and refreshed, while lemongrass oil can transport you to the orient!

You can even play around with combinations of essential oils (called 'blends') to find one that suits your current mood and needs. For instance, a combination of frankincense and geranium is extremely calming. Whereas, rosemary and peppermint do great to rejuvenate and refresh. Similarly, lemon and tea tree oil create an ambiance of healing.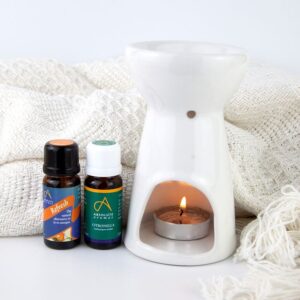 Diffusers are by no means a modern invention. They've been used since ancient times, especially as part of religious ceremonies. However, today there are a few options to choose from ranging from electric to ultrasonic to good ol' reed and traditional heat oil diffusers. You can use aroma diffusers at any time and any place.
People use aroma diffusers in the car, their living rooms, the toilet, outdoors; literally anywhere. While wellness deriving from essential oils is one of the most common uses, diffusers also work very well to repel mosquitoes and other creepy crawlies.
How best to use aroma diffusers?
Here are some useful pointers on how to use your diffuser safely and to the optimum.
Which kind of diffuser to use?
Given the various options, it makes sense to spend some time choosing the right kind of diffuser for your intended purpose. Each type has its own pros and cons.
For example, you may choose not to use a traditional heat diffuser in a space that has children or pets. Heat diffusers also burn the oils without any way to control the temperature. This can make the oils less fragrant and also destroys their medicinal properties.
One also needs to keep an eye on them and put out the flame once the oil and water mixture has evaporated. They're usually made of ceramic and add to the charm of the home decor.
Reed diffusers also look very aesthetic and are extremely safe as they do not need electricity nor heat. However, it is difficult to control the intensity of the fragrance as with electric or ultrasonic diffusers.
Electric and ultrasonic diffusers cost more than heat or reed diffusers but are mostly safe to use around children. They can be left unattended while they do their job, which is a huge advantage over heat diffusers.
However, the real advantage of electric and ultrasonic diffusers is that they turn the oils into vapour without burning them. This keeps the healing properties of the oils intact and one can enjoy the therapeutic benefits of these oils while one's senses bathe in their aromas.
Where to place your diffuser?
It's best to place your diffuser in the middle of the room. This is so that the mist from the essential oils spreads evenly across the room. Also, ensure it is around 2 feet above the ground for proper dispersal of the molecules.
Always remember to place a traditional heat oil diffuser on a flat surface that protects the surface below from the heat.
How to clean and care for your diffuser?
Remember to carefully read all the instructions given on the packaging of any kind of diffuser and to follow them to the T.
Keep in mind that since most diffusers need the essential oils to be diluted with water, there are chances of bacteria build-up. Although you needn't clean your diffuser after every single use, cleaning them carefully after every six to seven uses is recommended.
Always unplug electric diffusers before cleaning them.
Use a damp cloth to wipe clean your diffuser.
When not to use a diffuser?
Essential oils are potent little potions. They aren't only aromatic in nature but actually have certain effects. This is why pets, infants, and pregnant persons need to use them with caution.
Any signs of difficulty in breathing, headaches, nausea, sore throat, or skin rashes and allergies are indications to ventilate the space and stop using the diffuser.
Diffusers from Absolute Aromas
Absolute Aromas brings for you its range of ultrasonic diffusers: Aroma Blossom, Aroma Mist, and Aroma Wave.
The Aroma Blossom is ideal for use with pure essential oil and fragrance oils. It has an auto shut-off safety feature and also doubles up as a mini humidifier.
There couldn't be a better companion than the Aroma Mist to bring forth the therapeutic qualities of essential oils and for creating that perfect spa-like atmosphere.
The Aroma-Wave combines ultrasonic technology, optional mood lighting, and aromatherapy to create an ambient setting in any room.
Choose from these high-quality products with contemporary designs that offer maximum safety and a revolutionary way to bring fragrance and wellness to your home.