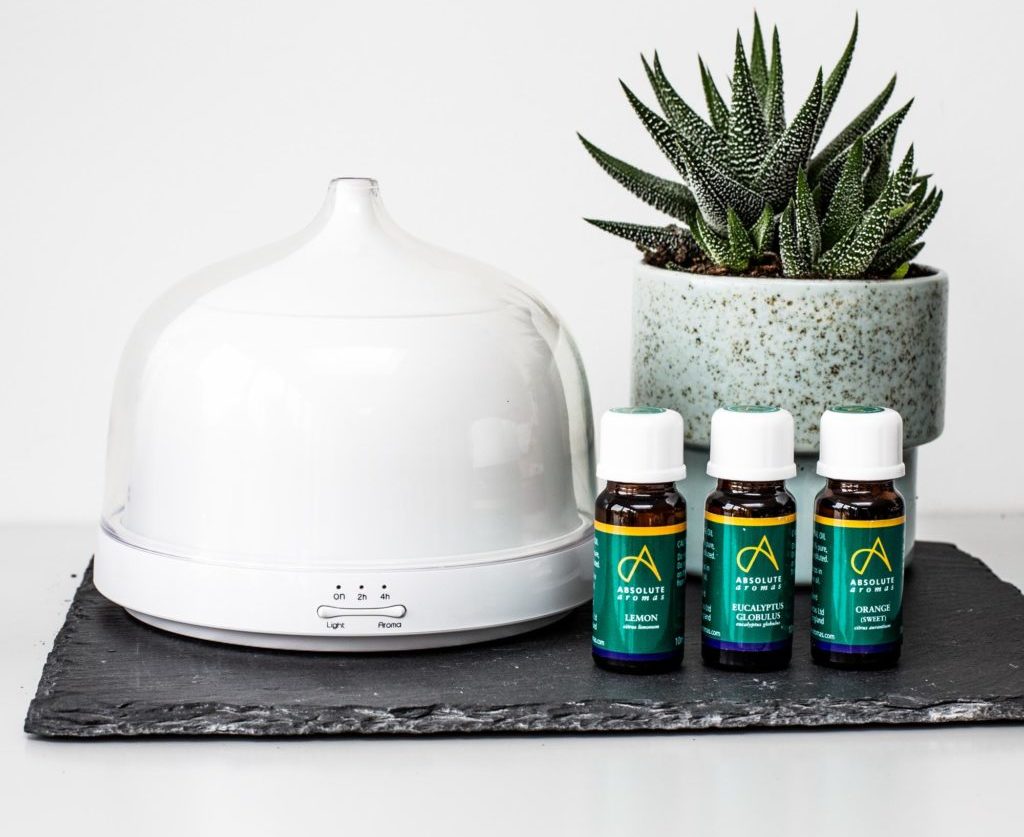 15 Mar

Five Great Ways to Experience Aromatherapy with Essential Oils

We don't give our sense of smell the credit it deserves. We are able to enjoy our food so much more because of our ability to smell the aromas of the spices. Smells from childhood can magically transport us back in time; while a visit to the spa is all the more relaxing because of the clever use of aromatherapy using essential oils.  

Do you think aromatherapy is a new trend? It might be interesting for you to know then that it's actually a science and art that is around 6000 years old!  

Aromatherapy is the use of essential oils with the aim of improving the mental and physical wellbeing of a person. It is primarily used for healing and inducing a state of relaxation.

Several essential oils (which are basically concentrated extracts from the leaves and roots of various beneficial plants such as peppermint, clove, orange, lavender to name a few) have antifungal, antimicrobial, and antiviral properties. Several also contain antioxidants that boost the immune system. 

But you needn't always check into a spa to enjoy this luxurious and holistic treatment. There are several ways in which you can incorporate aromatherapy into your everyday life.  
Here are 
five great ways
to experience aromatherapy using essential oils in your daily routine
There are two primary ways to practise aromatherapy: inhalation and topical application.  
1: Enjoy essential oils through a diffuser

 
Whether you choose a reed diffuser or an ultrasonic one, you can immediately lift the mood of your space with the fragrance of an essential oil.  
There are various psychological and physiological benefits of inhaling essential oil fragrances. Some oils act as decongestants and can provide respiratory disinfection. And the smell molecules also calm our nervous system and create a sense of wellbeing. 
If you're pressed for time, this is perhaps the easiest way to enjoy the benefits of aromatherapy. 
2: Indulge in an essential oil massage for your skin or hair

 
While essential oils cannot be used directly on the skin or hair, they combine beautifully with carrier oils such as jojoba, olive, or sweet almond. 
Once combined, they can be used to pamper and enhance one's hair and skin. The antiseptic and anti-inflammatory properties of some essential oils can help soothe the skin and induce hair growth. 
The beautiful fragrances of course, only enhance the experience of using such an oil blend that is full of pure goodness. 
3: Use essential oils for health purposes

 
Among the various home and natural remedies to cure the common cold, inhaling eucalyptus oil is one that your grandmother would certainly be happy with. 
But essential oils are also used to help with a wide variety of issues. Toenail fungus, eczema, toothaches, shingles, boils, and even arthritis pain can get relief with them help of #essentialoils.
4: Enjoy an aromatherapeutic bath or shower

 
Add a few drops of your favourite essential oil to your shampoo, conditioner, or shower gel. Then enjoy the benefits of your chosen oil for your hair and skin.
In case you wish to enjoy just the fragrance, you can splash a few drops on the walls and inhale the scent while you enjoy a hot shower. 
Add a few drops of your chosen essential oil to a carrier oil. Then add it to your bath water. Throw in some flowers and light a candle and voila, you're in your own private spa!

5: Use essential oils to deal with insects and bugs

 
If you are someone who wants to avoid using chemicals at home, essential oils are your answer. They act as natural repellants for mosquitoes and other insects.  Lemon, eucalyptus, citronella, cinnamon, and tea tree oils are known to work as effective mosquito repellants.  
Did you know that bed bugs hate the smell of lavender? So while you enjoy lavender-induced dreams, bed bugs would scoot far away from that lovely fragrance. 
Given the versatility of essential oils and their uses, you can begin with whatever appeals to you. You can easily accommodate essential oils for aromatherapy in your daily routine.