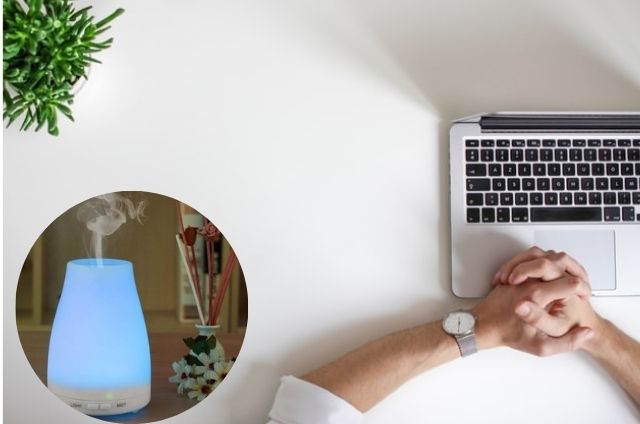 13 Jul

Why Your Work Desk Needs an Ultrasonic Diffuser

It's no exaggeration to say that most of us spend the bulk of our time at our desks. Work from home has given rise to the trend of customizing workspaces to be pretty and clutter-free. And rightly so, our desks need to be happy spaces that give us the energy and sanity to deal with the pressures of work. And whether you work out of an office or from home, an ultrasonic diffuser at your work desk can dramatically impact your mood and productivity!
You think you were on top of your work-desk game with a plant? There's room to ace it further with an essential oil diffuser!
Essential oils aren't just for spas. You can very well bring them into the workspace to benefit from the calming and soothing fragrances and healing properties they offer.
The scent molecules from essential oils travel through the limbic system to the brain and particularly impact the amygdala, which is the emotional control centre of the brain. Aromatherapy is a popular remedy for anxiety and stress. Studies prove that essential oils can help reduce stress levels, aid respiratory issues, balance hormones, and even help regulate blood pressure. All super useful effects that can help one be at one's best at work.
Modern work is characterized by volatility, uncertainty, and ambiguity and we need all that we can have in our arsenal to combat the stress and anxiety that are sapping our life force.
Imagine being able to take a deep breath and inhale all the goodness of essential oils to calm yourself down when faced with a crisis, and immediately feeling calmer. Yes, it is possible! Our physiology also impacts our psychology.
Ultrasonic Diffusers: The Right Choice for your work Desk
A live flame isn't the safest thing at work or at home, honestly. And that's where the ultrasonic diffusers come in to save the day. Ultrasonic diffusers vapourize essential oil molecules and convert them into a mist that is then evenly spread across the room. Instead of heat, they use a cool vapour mist to disperse the oil molecules. This also ensures that heat doesn't destroy the healing properties of the oils and that they remain intact.
Absolute Aromas brings to you the Aroma Wave that combines ultrasonic technology, mood lighting, and aromatherapy to be the perfect companion for you while you try to be your productive best.
There's an essential oil for every mood and distinct effects. For instance, sweet orange, peppermint, lemon, and rosemary are great for productivity. Lavender, eucalyptus, and geranium are immensely helpful to manage stress.
Absolute Aromas' own concoctions, Focus Blend and Relaxation Blend, combine the right essential oils, in the perfect proportions to help you focus or relax, as the names suggest. So perhaps your search could end right here!
So if you're looking to make your work desk into a sanctuary of sorts; a place where you are able to accomplish a whole lot, without getting overwhelmed, add an ultrasonic diffuser. It's sure to elevate your mood and enhance clarity and productivity.