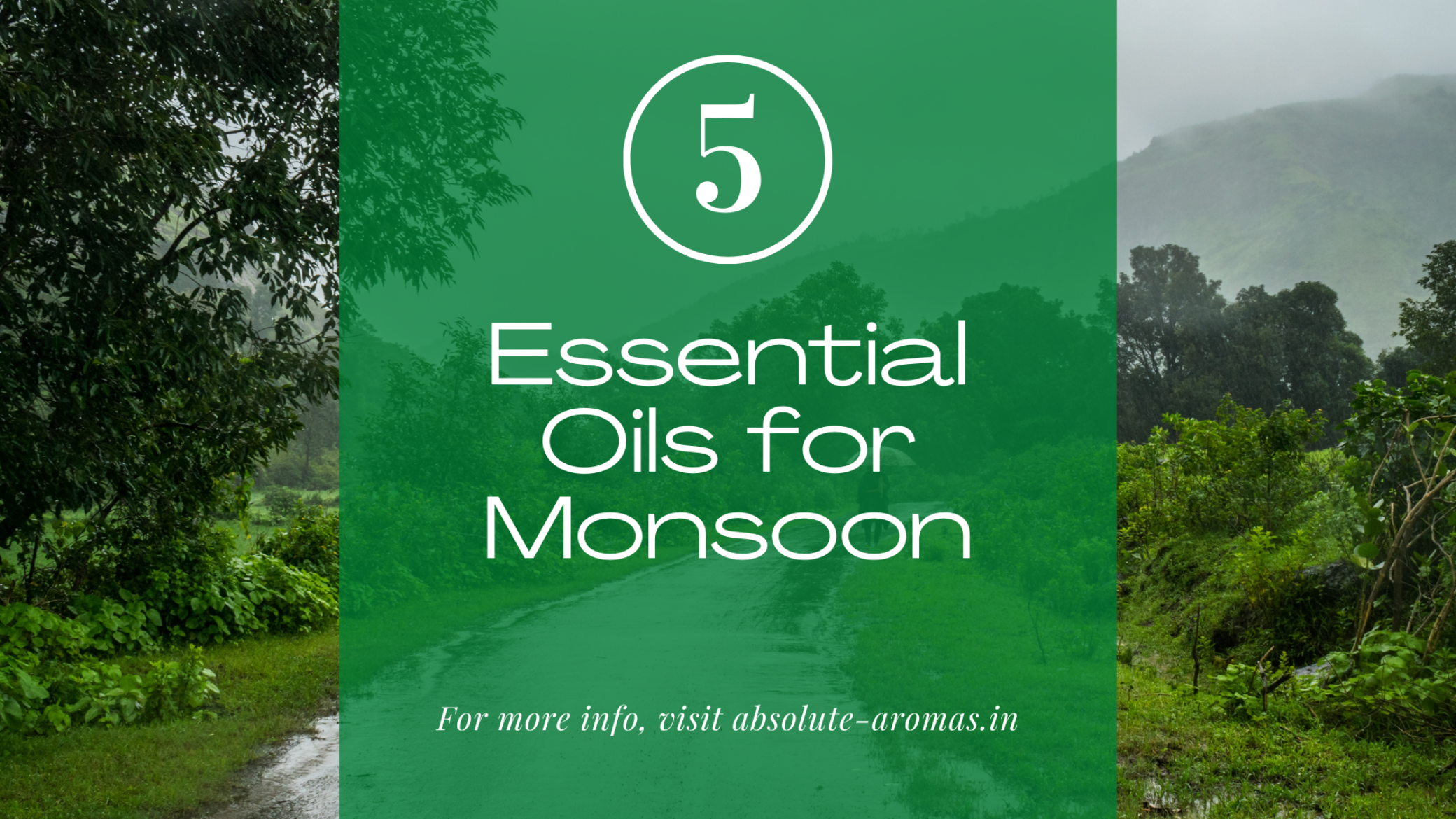 05 Jul

Five Essential Oils for Monsoon Season

Most people have a strong reaction to the rains; they either love them or hate them. Monsoon woes are a real thing though. Some folks complain of frizzy or sticky hair or dry skin. Skin infections and allergies also become common. Mosquitoes and flies buzz around everywhere, and the overall mugginess can make rooms feel stuffy and unpleasant. Besides these irritants, one is also at risk of catching a cold or flu owing to season change. While one can think of various remedies for each of the above-mentioned issues, there is one panacea for them all: good ol' essential oils to the rescue during monsoon season.

Here are five essential oils which are absolute essentials for you this monsoon season.
Lavender
A perennial favourite, Lavender essential oil is particularly useful in the rainy season. The humidity in the rainy season can lead to itchy scalps, dull hair, and dry skin. In fact, hair fall increases manifold during the rainy season as well.
Massage a few drops of Lavender essential oil combined with coconut oil on your scalp and body 20 minutes before you shower. Not only will you end up having a luxurious shower experience, but your skin and hair will also feel like a million bucks.
The intoxicatingly sweet fragrance of Lavender when diffused can help a room get rid of any unpleasant odours common during the rains. Allow yourself to enjoy the pitter-patter as you sit with your cuppa and inhale the pretty floral scent.
Peppermint
Peppermint essential oil is a popular ingredient in several cleansing products, and for good reason. Its anti-bacterial and antioxidant properties make it a great choice for diffusing during the monsoons to refresh the environment with its cooling and pleasant aroma.
You can include Peppermint in your DIY home-cleaning solutions as well to add an extra layer of protection in your environment. In addition, it is also great for steam inhalation as it helps with heavy heads and discomfort caused by a cold.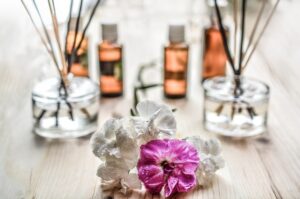 Citronella
Mosquitoes make an appearance nearly as soon as the rains arrive. Along with other creepy crawlies, mosquitoes and flies pose health hazards besides causing annoyance. Citronella is well-known for its insect repellent abilities and is a must-have in your medicine cabinet during the monsoons.
Besides diffusing Citronella, you can also add a few drops to a carrier oil such as coconut or jojoba and add it to your body lotion. This will ensure that wherever you go, mosquitoes, flies, and other bugs maintain a safe distance from you.
Frankincense
The nourishing properties of Frankincense essential oil make it a huge favourite all year round. However, this soft, earthy, and woody-smelling essential oil is of great benefit during the monsoon season.
Often called 'the king of essential oils', Frankincense is an ancient oil that balances and moisturizes the skin. Its antibacterial, antioxidant, and astringent properties make it highly suitable for cleansing and protecting the skin and scalp during the rains when the dampness, warmth, and humidity give rise to various infections and make the skin appear dull.
Patchouli
Patchouli is another essential oil that we highly recommend for its multiple uses and benefits. It has been traditionally used as an insect repellent as it successfully drives away all kinds of bugs, ants, flies, moths, mosquitoes, and fleas that abound during the rainy season.
Its antibacterial properties make it a great aid for the skin as it fights acne-causing germs and leaves skin looking bright and clear. It also promotes hair growth to counter the hair fall we naturally experience in this season.
To conclude…
As much as we may love the monsoons with its delicious earthy smell of petrichor, the myriad colours of the sky, or the excitement of sighting a rainbow, the monsoon season also brings along its own share of troubles.
However, we would want nothing to come in the way of your enjoyment of this most romantic season. These essential oils are carefully chosen to be your companions during this season. Our hope is that you remain protected, nourished, and healthy as you enjoy the rains thoroughly.