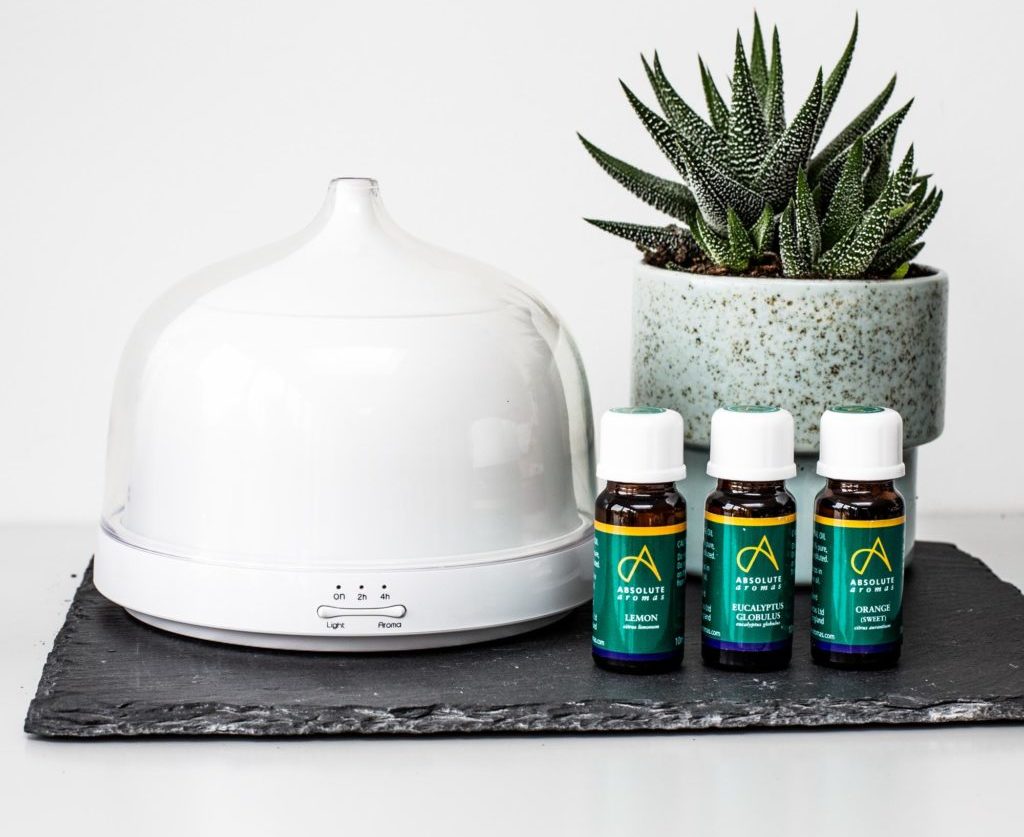 05 Mar

Essential Oils: How to use them? – Part 1

In our first post in the Aromatherapy 101 series, we walked you through how the aromas of essential oils travel through our olfactory system to our sensory systems. Now the most popular method of absorbing these aromas for the longest time used to be to inhale them. As we prepare to welcome the new year and the new decade, let us help you take your wellness journey to another level.
The many ways to use essential oils.
The best way to experience the therapeutic properties of essential oils is to inhale them, as they get absorbed into the bloodstream through the mucosa in the nasal passages. Inhaling can be done in two ways
Vapourisers / Diffusers
We recommend using an ultrasonic vapouriser to generate the right atmosphere to live, work or play in! Vapourisers work by creating ultrasonic vibrations that cause the oil in the water to breaks it up into molecules. The oil and water molecules are released into the atmosphere in the form of a cool mist. This is excellent in dry weather and for winters.
Allow the oils to diffuse into the atmosphere and remember to top up whenever you need to refresh the water. Absolute Aromas has a lovely range of Essential Blends that are all blended and ready for use. We also have high-quality diffusers.
Steam Inhalation
Steam inhalation is another pleasant way of using the oils. Not only do you inhale them, but you give your skin a deep cleanse too! Apply 5-10 drops of oil to a bowl of steaming hot water, place a towel over your head and inhale the steam for a few minutes. This is a great way to ease congestion in the nose, throat and chest. Helps to ease headaches and uplift your spirits after a hard day at work.
Hot or Cold Compress
You can use essential oils in a hot or cold compress depending on the type of issue you face. Add about 4-5 drops of your choice of essential oil in 200ml of water, dip a towel and place at the area affected.
Sprays
You can create a room spray to ward away germs, or to refresh a room. Add 10% essential oil or a blend to a mixture of rubbing alcohol and water.
IMPORTANT: This is not to be used on the body (we will share recipes for body sprays in later posts)
Massage
A very effective method to apply essential oils to the face and skin safely is by diluting it in a carrier oil and then applying. You could massage these oil blends into your skin to help relaxes the mind, body and spirit. We have a range of special massage oil blends especially made for this purpose.
IMPORTANT: Body blends must not exceed 3% in dilution and Facial blends must not exceed 1%. For babies and toddlers, as well as the elderly, no more than 1% should be the dilution.
_________________________________________________________
These are the few popular methods of using essential oils. There are some other interesting and unconventional ways to use essential oils. More of that in post in this series.