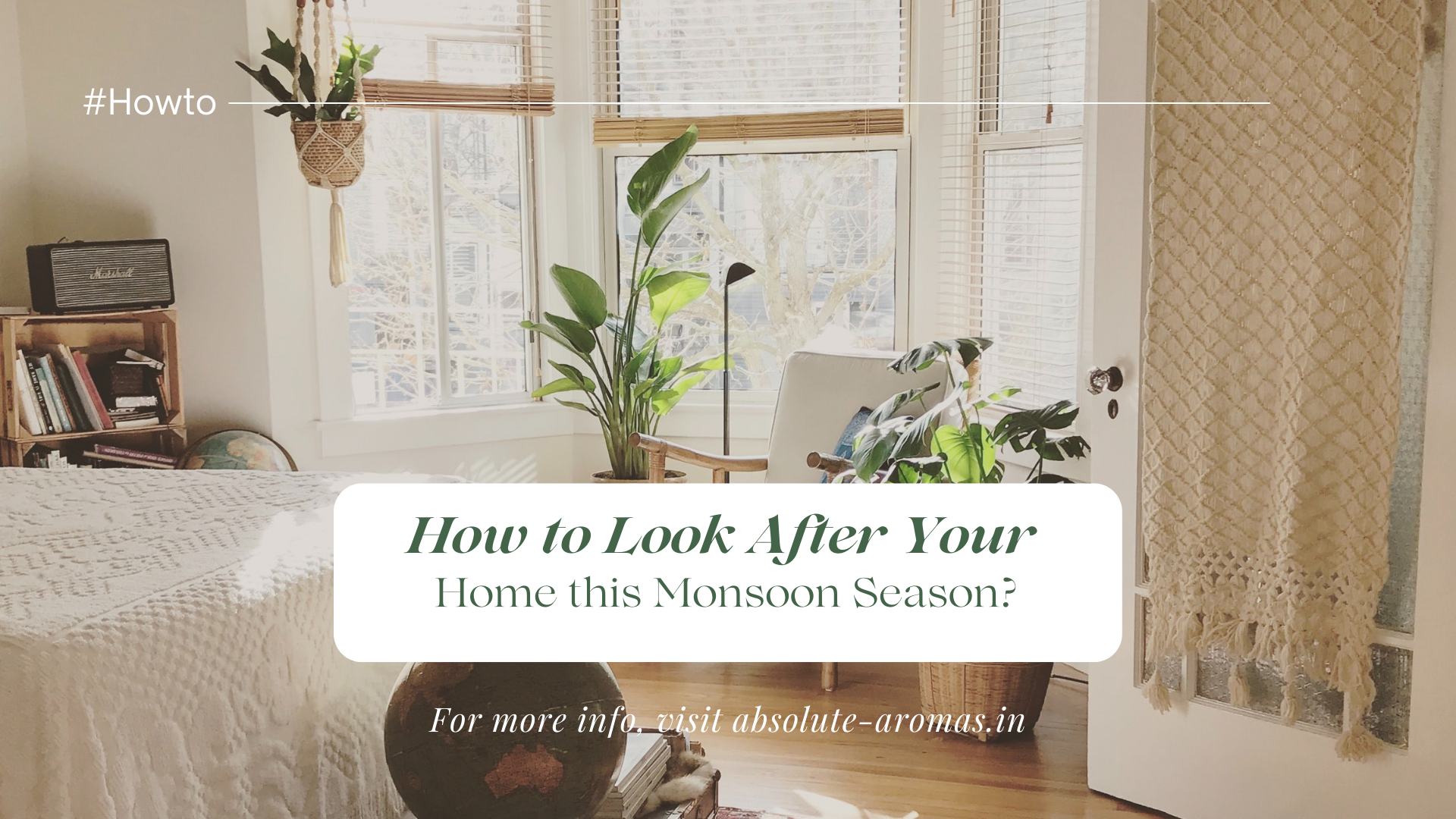 08 Jul

Look After Your Home with Essential Oils this Monsoon Season

As romantic as the season is, the monsoon comes with its own share of problems. The musty smell in the rooms, the rise in the number of mosquitoes and bugs, and flies that hover over food and cause infections are a few. In this article, we highlight some common problems we face during the monsoon and share the top five essential oils you can use to tackle them.
Your five go-to essential oils this monsoon…
Let nothing ruin your enjoyment of the rainy season by incorporating these five essential oils into your home-care routine. Listen to your favourite rain songs as you potter about the house armed with these essential oils this monsoon to enjoy a healthy monsoon season.
Bergamot
The rains make rooms feel stuffy and make unpleasant odours linger for longer. This is true of bathrooms as well. Ensure you keep your bathroom clean and dry for starters. You can put a few drops of Bergamot essential oil on the inside portion of your toilet paper roll or on some tissue paper to mask any smells that bother you.
Bergamot is a citrus essential oil that has a refreshing and clean fragrance. It also sanitizes and is an effective ingredient for natural surface cleaners.
Ylang Ylang
The mustiness that the dampness in the air brings about can also bother you when you're trying to be least disturbed: on your bed. The sun is barely out during the rainy season. Owing to this, clothes and sheets may retain a damp smell. This is particularly annoying when you are trying to get some shut-eye.
Use the rich fragrance of the sweet and earthy-smelling Ylang Ylang essential oil between the sheets to replace the odour with a refreshing fragrance. Enjoy flower-scented dreams as it pours outside.

Frankincense
We tend to bring in more of the weather into our houses during the rains. Wet umbrellas, shoes, bags, and clothes enter our living spaces along with plenty other organisms that the naked eye cannot see. These may cause infections that are common in this season.
Frankincense essential oil is a must-have in your medicine cabinet as it is a natural disinfectant. Add it to your natural home cleaning products such as floor or surface cleaners to add a layer of protection to your personal space.
Lavender
Lavender is truly a versatile essential oil and can serve you well throughout the year. It proves to be an especially great companion in the rains owing to the way in which it can sweeten and deodorize any space.
Adding it to your laundry can make your clothes smell fresh and get rid of the mustiness that they tend to carry during the rains. You can also wipe and deodorize carpets and rugs using Lavender along with baking soda sprinkled on rugs, carpets, and even mattresses to absorb and deodorize them. Vacuum the powder off and enjoy clean and fresh-smelling surfaces.
Petrichor
Now, if you are a true lover of the monsoon and can't get enough of the intoxicating scent of the earth when the first few drops of rain fall on it, we have you covered!
Get our special Petrichor essential oil (petrichor literally means the fragrance of rain). In fact, this is one fragrance that you might want to have access to all year round, just in case you wish to please your olfactory cells by having them breathe in a whiff of this amazing aroma that nature has gifted us with. It's monsoon in a bottle and also a great gift for lovers of rain.
Remember to keep those bugs and mosquitoes away!
The rains see the flourishing of nature in all its glory. This also happens to include mosquitoes and bugs and worms of all kinds. While we respect and love nature, we certainly also want to look out for our health and hygiene.
You can use Lavender, Frankincense, or Ylang Ylang also as insect and mosquito repellents. Diffuse them indoors or make a spray using 60 ml of distilled or boiled water, a teaspoon of coconut oil, a teaspoon of vodka or witch hazel, and 10-15 drops of one of these essential oils to keep creepy crawlies at bay.
The rains provide immense relief after the scorching heat most of the country experiences. You should experience the Indian monsoon in all its glory without getting bothered by the little inconveniences it brings along, and more importantly protecting your health. Have a safe and healthy monsoon!